---
Why choose LED 10X Magnifying Makeup Mirror?

1) SPACE SAVER - Our mirror takes up zero precious counter space. Attached it to your existing mirrors or any surface that is smooth, non-porous and flat.
2) CORDLESS & PORTABLE - No more dealing with messy cords and searching for an outlet. The rotating arm folds up compactly and neatly. It's ideal for home and travel.
3) MODERN DESIGN - Unlike our competitors that have bulky battery compartment in the back, our mirror holds 3 AAA batteries inside the mirror's casing. This results in a sleek and elegant look.
4) NATURAL DAYLIGHT LEDs - Longer lasting and brighter than conventional incandescent bulbs. Our mirror diffuses the light from 14 LEDs to illuminate your face.
Having trouble finding the best position while doing your make up?
The Wall-Mount Magnifying Mirror with an 11.5-inch extension arm can help you do makeup easily. There is no need to climb onto the bathroom countertop to get close to the mirror. You just need to stand in front and adjust the mirror position (height and direction) freely for your desired comfort. 
A 360° rotating swivel head allows the mirror to rotate freely to any desired angle. You can easily find a suitable position to apply your makeup or other beauty maintenance needs.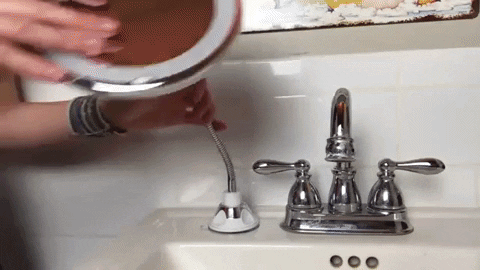 Wall-Mount Magic Mirror is manufactured carefully to win stands all the possible pressure while doing all possible angle in using it.
Instructions

Prior to mounting, clean surface with soap and water. Any dust or grime will prevent proper contact with the suction cup.
Your mirror uses a powerful locking suction cup. Make sure that the suction lock is not already engaged by twisting it counter-clockwise. Press the suction lock against the surface and activate the locking mechanism by twisting clockwise. Adding a little bit of moisture will also help to create a stronger suction.
Product Features:
This mirror requires a clean, flat and smooth surface of at least 3.5" X 3.5", otherwise the suction may not work.
This mirror can attach to flat surfaces such as ceramic, marble, acrylic, quartz, glass and other mirrors.

Easy-Lock and a strong suction cup will help you to easily stick the mirror to the dressing table, a wall in the bathroom or any other flat and clear surface. The strong suction cup attaches the mirror firmly and will not fall down.
This is easy to use a mirror that has an exceptionally detailed viewing. It is great for applying makeup and other beauty maintenance needs. 
Perfect for plucking eyebrows, inserting contact lenses, applying makeup, doing your hair, shaving & more! 
More Details:
Convenient Taken-with: You can bring it on your next trip and it will take up less than 1/2 sq ft. in your luggage.
Strong Easy-Lock Design: Our strong Easy-Lock suction cup allows you to securely attach this mirror on any clean and flat surfaces. It takes no more than 3 seconds to install
.
360° Adjustable Swivel: Rotates 360° for adjustable angles allowing you to turn the mirror to any angle for easy viewing!
Package Includes:
1pc x Wall-Mount Magic Mirror
P.S: Please make sure to remove the Protection Foil on the Surface after receiving the Mirror.
Excellent mirror, highly recommended 👍
Perfect!
Exactly what I wanted. Good size and magnification. Securely stuck on my vanity mirror. Moves easily on the arm. The 3 light cycles are useful.Well priced for all it offers. Thanks!
Makeup Mirror
Fantastic for travelling. Light weight and great magnification.
Great magnification
Fantastic flexible arm mirror - can see great detail without reading glasses. Hubby likes it too!
MM review
I find this mirror to be very helpful. I plan to buy a 2nd one